November 24th, 2014 by Helen Shaw
Tweet
It's that time again. Time to assess and review, reflect and complete. Already Dublin and Manchester have the Christmas trees alight and we're already taking booking into 2015 so this post is a chance to catch up on what's been happening this year 2014. We did have one birth - our lovely production assistant Kate Ní Chélirigh had her beautiful baby boy Fiachra in Spring - and Fiachra has the honour of being the first Athena Media baby! We're 11 years in business since September of this year and while some of our ex staffers like Chris Clarke have indeed had children Fiachra is the first one to arrive while someone is working with us. So here's Fiachra and Kate!
We had an eventful year though in terms of moves. By February we decided to open in Manchester in MediaCityUk and we officially launched by Mid March in the amazing location of The Greenhouse. MediaCityUk is inspiring. A new city of glasses and water at Salford Quays just outside Manchester City.
The BBC has relocated BBC learning , CBBC, BBC Sport and Breakfast TV there and just across the water is ITV's Coronation Street. We're busy since March getting our feet under the table there and looking to connect with work. We established as a UK business and we've got some publicity there too.
Back home in Dublin our offices at Adelaide Chambers went through something of a crisis. We moved back to the Digital Hub by end of April to the charming Townhouse Twenty2 on Thomas St - once a public library and now our production base and head quarters. We brought our sofa with us - took off its covers and invented a new office sport, AthenaSofa where people who visit or work write and draw on the sofa. Have a look at some the evidence.
Come and visit and leave your trace too!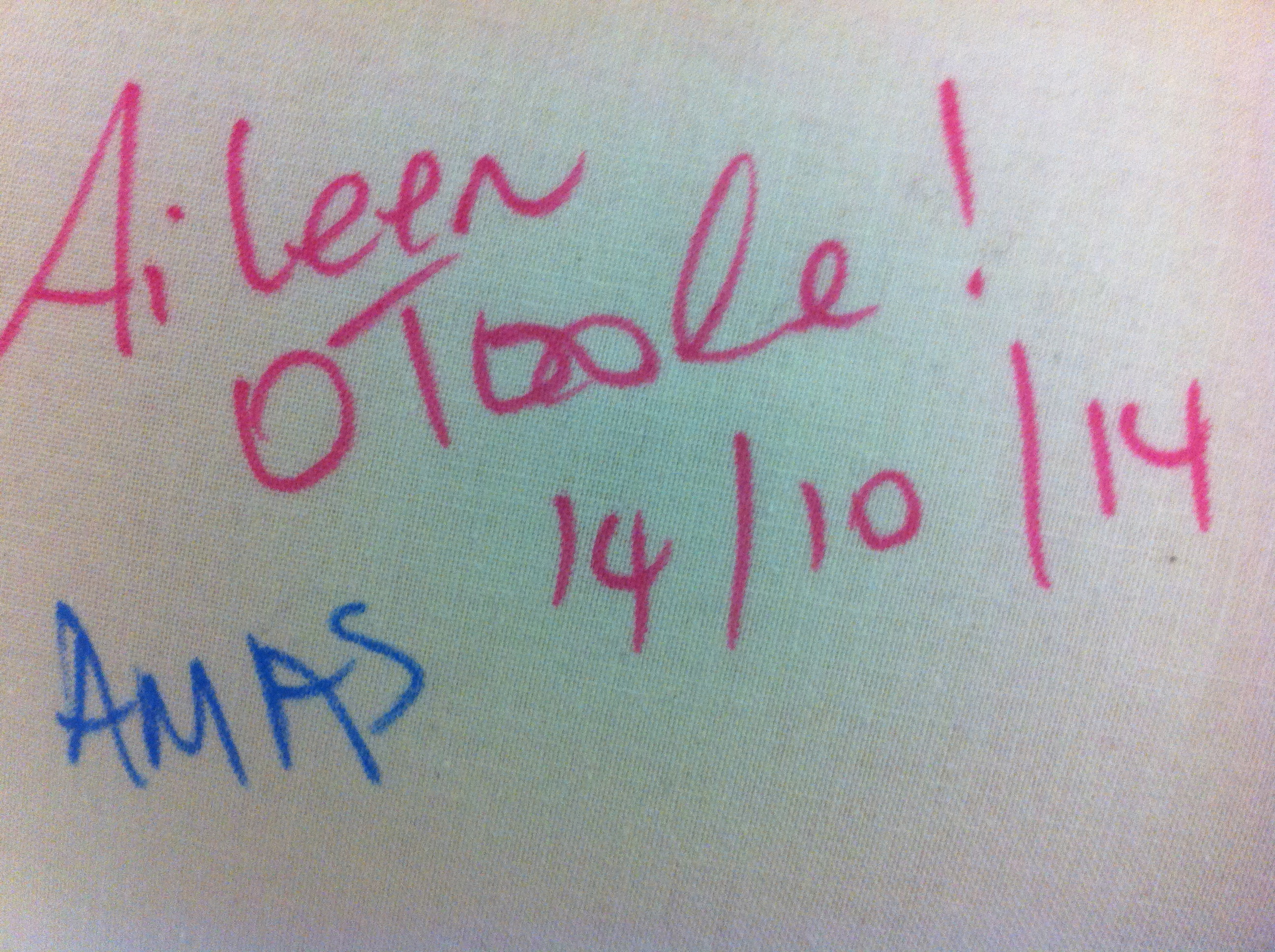 Beyond writing on sofas we've been busying with several key projects. in February we won a tender to create a transmedia children's rights advocacy tool for the Office of the Childrens Ombudsman Its Your Right with audio, video and content made with and for children around their rights and lives. By September our digital producer Leon O'Neill had rolled out a iPad application for it and by November 20th we were both celebrating the Universal Children's Day anniversary of the 25th UNCRC and a great win with the silver award at the Appy awards for best children's app.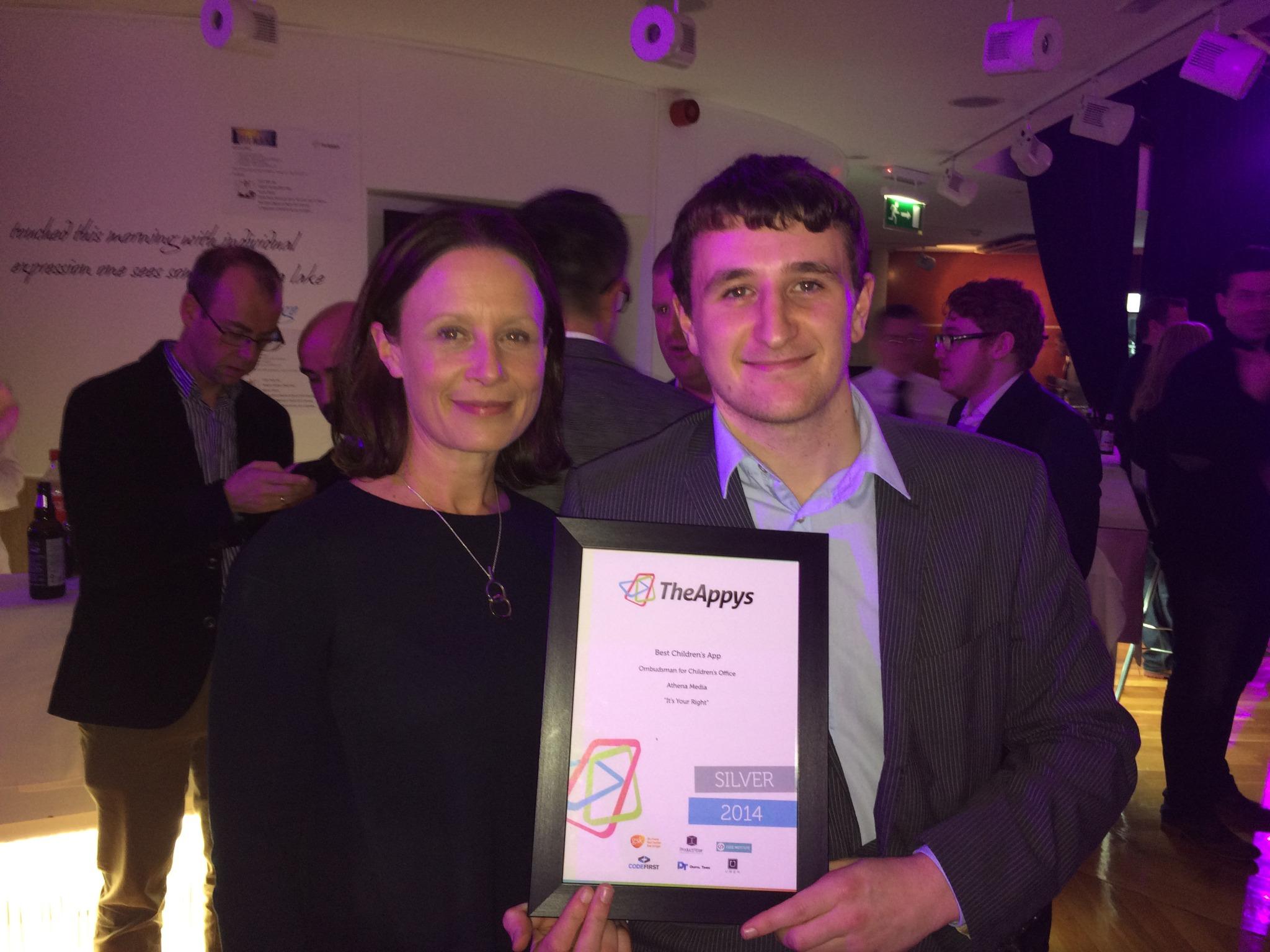 In content we produced our first audiobook for Audible by May - Pat Falvey's The Summit, in January we produced the content for the UCD iPad add James Joyce: The Dead and we completed the Newstalk/BAI radio series Science is Everywhere with Lara Dungan. The radio series won Silver in the New York Radio Awards in June and we also had the privilege of two Gold Awards in New York for our 2013 radio series Citizens Lockout 1913-2013 and Herosongs. The Herosongs presenter Thérèse McIntyre went to New York to collect the awards.
Our James Joyce The Dead reading by Barry McGovern won a finalist certificate - bringing our awards from New York Radio Festival since 2012 to 3 Gold, 1 Silver and 2 Finalist Awards. We've pretty much made independent production history as an Irish independent company with that haul!
Our audio editor Amy Millar, the audio force behind all those award-winning projects, also went to the Celtic Media Festival in May to collect our finalist certificate for Herosongs.
In this year's work we've been producing 3 broadcast project which were awarded funding in June by the Broadcasting Authority of Ireland - Extreme - a TV documentary for Setanta Sports, Vocal Chords - a radio series with presenter Iarla Ó Lionáird for RTE lyric fm and Bright Sparks a new science series with Prof. Shane Bergin for RTE Radio 1.
By September we were lucky enough to get a fourth award - for a single radio history documentary Kinder Letters for Newstalk which is a fascinating WW2 story crossing between Ireland and Germany.
Our producer Robert Hope, the mainstay of so much of our work recently, moved to Berlin in April but he continues to work with us on a contract basis and Rob has been busy travelling Europe recording amazing music for Vocal Chords. Michael Gallen, composer and recordist, is also recording with us for Vocal Chords and Michael and Iarla went to London recently to record an exclusive interview with Peter Gabriel. That interview was so compelling that we all decided to make a single stand alone programme based around Gabriel which goes out on RTÉ lyric fm on St Stephen's Day at 7pm. The full series starts May 1st 2015.
In Manchester one of the most fascinating projects to date has been media training with Chinese Media and we've now moved into The Landing right beside the BBC. in November we were there for the screening of Unbreakable with Mark Pollock - the presenter of our Beyond Limits series - and we continued our support for the Mark Pollock Trust by running in the Run in the Dark.
So its a year of moves, expansions, a birth and some of decorations for our window ledge and walls in terms of awards. We're really proud of our work for Its Your Right, it shows the value of transmedia story-telling and in particularly the work with teen songwriters Carla and Ellen and the performance of Shield.
'Shield' by Ellen and Carla - LIVE at St. Peter's College Dunboyne from ItsYourRight on Vimeo.
So for 2015 ……we hope to kick off the year hoping to make this a better world. Literally. We are supporting and working with the European Year of Development and we'll be at the launch in January with the President Michael D Higgns. great company, great cause. What are you doing to make this a better world?